5 Ways Your Trip To Work Could Be a Lot Worse
10th February 2014
The current tube strikes affecting London are miserable. They disrupt people's day, cause massive overcrowding and disturb the natural flow of city life. Life threatening or dangerous however, they are not. In this blog, we look at 10 ways your trip to work could be a lot worse.
Yungus Road/Death Road
Made famous by Top Gear, this stunningly dangerous road is used by local buses, trucks and cars taking people to work and back from nearby villages. There aren't many roads in the world in which passing a car is a matter of life and death.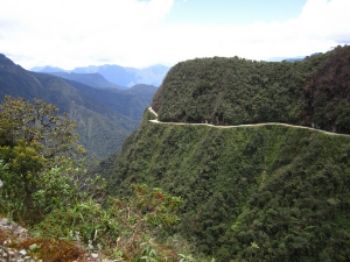 Los Pinos Zip Line
If you had to get to school and had the option of a two and a half hour hike, or a one minute zip wire to the bottom of the valley, which would you choose? The Los Pinos zip line is how children in one village in South America get to school – and it looks as rudimentary as you can get.
Transmission Tower Maintenance Worker
'It's a lot like a space walk' is how free-climbing up a transmission tower is portrayed by one worker in America – 1,768ft up. The climbing is done without safety lines to ensure the job at the top of the tower gets completed on time – many believe that this is 'the most dangerous job in America'
The Lineman's Crawl – Electricity Line Maintenance
To maintain electricity lines around the world, people are dropped on top of live electricity lines by helicopters – wearing metal mesh suits and diffusers to stop them being toasted on the job. One wrong move by the helicopter and everything goes up in smoke.
Roof of a Train – India
Although the tube can sometimes be a pain to negotiate – at least there's generally enough transport to go round. The transport problems in places like India, however, make commuting to work and back a different kettle of fish altogether. Not to mention a very dangerous one.
Hussaini Bridge
The Hussaini Bridge must rank up there as one of the world's scariest structures. An old rope construction, the bridge (with several boards missing) forms the main link for many villagers in Northern Pakistan to transport and other forms of infrastructure.